The compact and newly overhauled or completely new insulated containers are outstandingly suitable for being used as drying kilns. The inside walls are made of stainless steel or aluminium and they as well as the robust base have good insulation properties. In the factory, they will be equipped with high-quality components like heat pump, fans, heaters, spraying unit, exhaust fan and inlet flaps as well as climate and wood moisture content measurement.
The control unit, the drying schedules and our experience as kiln producer make the simple containers excellent but low-budget drying kilns which we perfectly adapt to customer requirements.
Fast and uniform drying
Cost-saving and economic
Easy installation
Very good insulation
Easy control
Solutions adapted to customer requirements
Front- and track loading
Advantages of the heat pump
No heating connection necessary
Very economic due to heat recovery
Only electric power connection required, thus giving complete flexibility in site selection
Efficient drying up to 70°C
Very high condensation power
Favourable electricity price due to heat pump rate
50% energy saving
---
Air Classic Drying Container Kiln with heat pump
| Technical data | Type | TC6WP | TC12WP |
| --- | --- | --- | --- |
| Stackroom Length | m | 5.55 | 11.60 |
| Stackroom Width | m | 1.25 | 1.25 |
| Stackroom Height | m | 2.00 | 2.30 |
| Stackroom gross capacity | m³ | 13.90 | 31.90 |
| Total length incl. track | m | 13.00 | 25.00 |
| El. power supply. | kW | 20.20 | 36.00 |
| El. average consumption. | kW | 6.50 | 13.00 |
| El. averatge consumption w. heat recovery | kW | 4.50 | 9.00 |
Special sizes between 6-18 metres are available to meet individual customer's needs.
---
After loading the wood the drying process can be started. Lateral mounted fans press the air through hot water heater or el. Heater and distribute the air equally over the complete kiln length. Due to air exchange by exhaust fan and air inlet flaps the drying climate can be exact controlled.
Also a counterflow heat exchanger can be used. In it the warm and humid air exhaust air heats very effective the fresh incoming air. This conventional drying kilns are characterised by fastness, equability and economy.
Standard sizes are:
6m container 6.1m x 2.4m x 2.6m (LxWxH)
12m container 12.2m x 2.4m x 2.9m (LxWxH)
Special sizes are anytime possible
---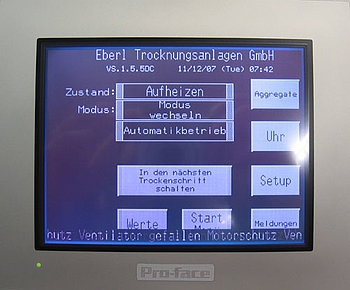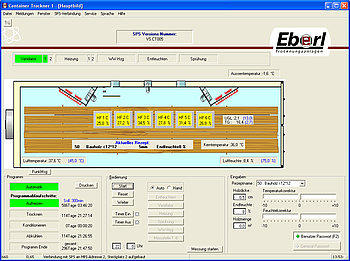 On our user-friendly touch panel, simply enter the wood type, wood thickness and the desired final moisture content.
After that, all you have to do is press the start button, and the kiln will take care of the rest by itself.
In order to facilitate your daily work with our kilns, we offer a visualisation program. With this you can comfortably monitor and control your kiln from your office computer. The simple interface allows you to enter all relevant data and settings as well as saving and printing logs or diagrams of the drying process. It is even possible to remotely control your kiln using your smartphone.
Quick request for Air Classic Drying Container Kiln with heat pump
Our practical inquiry form will lead you quickly to all answers.
Now for the form